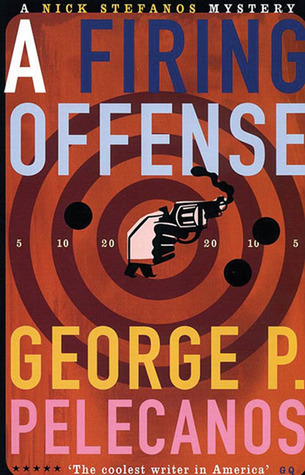 From the back of the book:
As advertising director of Nutty Nathan's, Nick Stefanos knows all the tricks of the electronics business. Blow-out sales and shady deals are his life. When a stockroom boy hooked on speed metal and the fast life disappears, Nick has to help find him.
My Review:
Probably my least favourite Pelecanos book - the homage to James Crumley is apparent as being an influence in the early iteration of Pelecanos' own style but I just thought the execution missed the mark - though I can't quite pinpoint the exact reason for this. Perhaps the inconsequential over descriptive nature of the place-setting, or the volume of music references (which, in his later novels works well to add context) is the cause. Then again, perhaps it was lead character Nick and the jump from being a sales/advertising person to stone cold gun toting PI in the blink of an eye? For me the logical progression of character between personas just didn't sit right.
Writing this review surprises me at how much I didn't connect with the book. Other works by Pelecanos (THE NIGHT GARDNER, DC Quartet, Derek Strange novels) are some of my all-time favourite crime fiction reads; my 'go-to' books when I need something to get me out of a reading funk. Unfortunately I can't say that with A FIRING OFFENSE.
Nick appears in many of Pelecanos's books and I was looking forward to reading more about the character. Perhaps my high expectation had an influence on the outcome?
The poetic noir that subtly flows through the narrative is in its infancy here, a style more prevalent in Pelecanos's later books.
I'll still read the two remaining Nick Stefanos novels and do have an interest in where the story progresses from here so all is not lost by any stretch.