This is a weekly meme hosted by
Book Journey
. In order to get some consistency to my posting I thought I'd jump on board this great idea. As a self-proclaimed bookaholic, I love talking about my books and finding out what others are reading. Having been a long time reader of multiple blogs where the 'It's Monday! What Are You Reading?' post is prevalent, I thought it a natural progression I'd add to the mix.
This week I'm going for 4 books, up from my usual two-three weekly reads. It's an eclectic mix and contains a couple review books, a new purchase and a book that's been sitting in my tbr for far too long.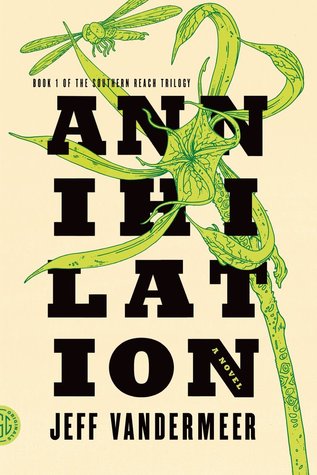 ANNIIHILATION by Jeff VanderMeer (The first book in the Southern Reach Trilogy)
Area X has been cut off from the rest of the continent for decades. Nature has reclaimed the last vestiges of human civilization. The first expedition returned with reports of a pristine, Edenic landscape; all the members of the second expedition committed suicide; the third expedition died in a hail of gunfire as its members turned on one another; the members of the eleventh expedition returned as shadows of their former selves, and within months of their return, all had died of aggressive cancer.

This is the twelfth expedition.

Their group is made up of four women: an anthropologist; a surveyor; a psychologist, the de facto leader; and our narrator, a biologist. Their mission is to map the terrain and collect specimens; to record all their observations, scientific and otherwise, of their surroundings and of one another; and, above all, to avoid being contaminated by Area X itself.

They arrive expecting the unexpected, and Area X delivers—they discover a massive topographic anomaly and life forms that surpass understanding—but it's the surprises that came across the border with them, and the secrets the expedition members are keeping from one another, that change everything.
HUSTLE by Tom Pitts (This book has top billing by Les Edgerton, author of THE BITCH as a new sub category of noir. Early signs are really good for this book - enjoying it so far.)
Two young hustlers, caught in an endless cycle of addiction and prostitution, decide to blackmail an elderly client of theirs. Donny and Big Rich want to film Gabriel Thaxton with their cell phones during a sexual act and put the video up on YouTube. Little do they know, the man they've chosen, a high-profile San Francisco defense attorney, is already being blackmailed by someone more sinister: an ex-client of the lawyer's. A murderous speed freak named Dustin has already permeated the attorney's life and Dustin has plans for the old man.
THE GENUINE IMITATION PLASTIC KIDNAPPING by Les Edgerton (I was lucky enough to nap an e-arc of this from the publisher)

The Genuine, Imitation, Plastic Kidnapping is a mix of Cajun gumbo, a couple tablespoons of kinky sex and a dash of unusual New Orleans settings. The reader follows the comic mis-adventures of Pete Halliday, busted out of baseball for a small gambling problem, Tommy LeClerc, a Cajun with a tiny bit of Indian blood who considers himself a red man, and Cat Duplaisir, a part-time hooker and full-time waitress. With both the Italian and Cajun mobs after them, a chase through Jazz Fest, a Tourette's outbreak in a black bar and other zany adventures, all seems lost.

Fans of Tim Dorsey's character Serge A. Storms, and readers who enjoy Christopher Moore and Carl Hiassen will enjoy this story.
AMERICAN PSYCHO by Bret Eastern Ellis (My first Bret Eastern Ellis read is his most accomplished novel. Really looking forward to getting stuck into this.)
Patrick Bateman is twenty-six and he works on Wall Street, he is handsome, sophisticated, charming and intelligent. He is also a psychopath. Taking us to head-on collision with American's greatest dream-and it's worst nightmare- American Psycho is bleak, bitter, black comedy about a world we all recognise but do not wish to confront.