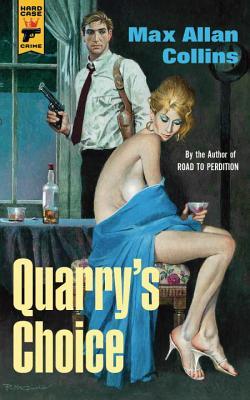 From the back of the book
Quarry is a pro in the murder business. When the man he works for becomes a target himself, Quarry is sent South to remove a traitor in the ranks. But in this wide-open city – with sin everywhere, and betrayal around every corner – Quarry must make the most dangerous choice of his deadly career: who to kill?
My review
QUARRY'S CHOICE is pure pulp fiction that holds true to the golden era of dime store paperbacks where murder, mayhem, sex and violence populated the popular fiction of the time. Max Allan Collins doesn't sacrifice plot for cheap thrills or for the sake of exploitation though, rather, delicately weaving all those pulp elements into a single narrative that results in a finished and polished product of typically Quarry quality.
QUARRY'S CHOICE is a solid book that isn't mind blowing but very enjoyable for fans of the hitman series.
QUARRY'S CHOICE is the twelfth book in the series.
Relate review(s)
THE WRONG QUARRY
THE LAST QUARRY
- - - - - - - -
A note on the 'short review' - the review will span a paragraph in length and will be preceded by a back cover synopsis.