I read 119 books in 2015, my lowest since 2010 and also the first time I've dropped below 150 (since 2010). The drop-off is largely attributed to time - simply not having enough to indulge in my favorite pastime and, wading through a higher than usual number of books that just didn't work for me.
On the plus side I read a bunch of very entertaining books by some new and familiar authors.
2015 also saw a change in my preferred reading medium with a pleasant return to physical books. In the past couple of years my reading has been a 50/50 split between physical and ebooks whereas this year around 80% of my reads were physical. There's just something about having a book in hand...
I also dabbled in audiobooks for the first time earlier this year but found they didn't really 'do it' for me.
Here are some of my top reads of 2015, as usual it's an eclectic mix (click on the link to read my review):
PERFIDIA by James Ellroy
THE MALTESE FALCON by Dashiell Hammett
CANARY by Duane Swierczynski
THE RING OF IKRIBU by David C. Smith (Red Sonja)
THE FAT MEXICAN by Alex Cane
ALL THE LITTLE PIECES by Jilliane Hoffman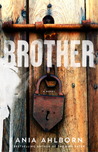 ZER0ES by Chuck Wendig
BROTHER by Ania Ahlborn
BAT OUT OF HELL by Alan Gold
Happy reading!