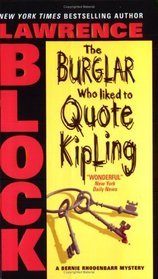 Comprising a gentle dose of humor deftly mixed in the world of professional thievery, Lawrence Block's

Bernie Rhodenbarr series is a lighter shade of crime fiction which also caters to those readers who like tension and a constant threat of violence on the horizon.




Bernie owns a bookstore and has seemingly given up the life of crime. However, when presented with a nice payday to retrieve a valuable book from a semi-serious collector, he can't refuse.
From that point forward, THE BURGLAR WHO LIKED TO QUOTE KIPLING is very much a classic whodunit as suspects fall and others emerge. It's a buyers market for death, little alone the item in question.
I've been reading some heavy crime fiction and some rather bleak non-fiction and found this book to be a light read, just at the time when I was needing one.
Additionally, THE BURGLAR WHO LIKED TO QUOTE KIPLING is the third book in the
Bernie Rhodenbarr series and is new-reader-friendly, another tick in my book.