This is a weekly meme hosted by
Book Journey
. In order to get some consistency to my posting I thought I'd jump on board this great idea. As a self-proclaimed bookaholic, I love talking about my books and finding out what others are reading. Having been a long time reader of multiple blogs where the 'It's Monday! What Are You Reading?' post is prevalent, I thought it a natural progression I'd add to the mix.
Last week I reviewed the following books:
THE HAMMER OF THOR by Carter Brown (pulp)
PERMUTATION CITY by Greg Egan (Tech-fi)
FROZEN IN TIME by Owen Beatie & John Geiger (non-fiction)
THE BURGLAR WHO LIKED TO QUOTE KIPLING by Lawrence Block (Crime)
DARK COUNTRY by Darren E. Laws (Crime)
Here's what I'm reading this week:
THE WAKING ENGINE by David Edison (I'm about 25% of the way through this and am enjoying the premise.)
Welcome to the City Unspoken, where Gods and Mortals come to die.
Contrary to popular wisdom, death is not the end, nor is it a passage to some transcendent afterlife. Those who die merely awake as themselves on one of a million worlds, where they are fated to live until they die again, and wake up somewhere new. All are born only once, but die many times . . . until they come at last to the City Unspoken, where the gateway to True Death can be found.
Wayfarers and pilgrims are drawn to the City, which is home to murderous aristocrats, disguised gods and goddesses, a sadistic faerie princess, immortal prostitutes and queens, a captive angel, gangs of feral Death Boys and Charnel Girls . . . and one very confused New Yorker.
Late of Manhattan, Cooper finds himself in a City that is not what it once was. The gateway to True Death is failing, so that the City is becoming overrun by the Dying, who clot its byzantine streets and alleys . . . and a spreading madness threatens to engulf the entire metaverse.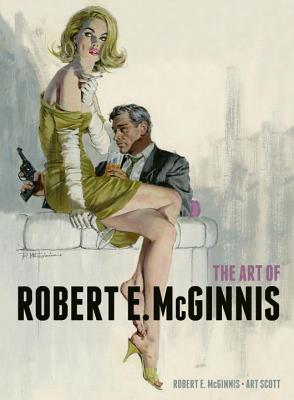 THE ART OF ROBERT E. MCGINNIS (I love McGinnis' artwork for Hardcase Crime and was wrapped to get a copy of this from the publisher for review. Will be one of my favorite reads of 2015 - a very enjoyable coffee table book)
Robert E. McGinnis began his career in 1947 as a cartoonist, and produced his first cover illustrations for 1956 issues of the magazines
True Detective
and
Master Detective
. Then in 1958, he painted his first paperback book cover, and from that day forward his work was in demand.
The emergence of the "McGinnis Woman"—long-legged, intelligent, alluring, and enigmatic—established him as the go-to artist for detective novels. His work appeared on Mike Shayne titles and the Perry Mason series, and he produced 100 paintings for the Carter Brown adventures. Yet McGinnis became famous for his work in other genres as well: espionage, romance, historicals, gothics, and Westerns.