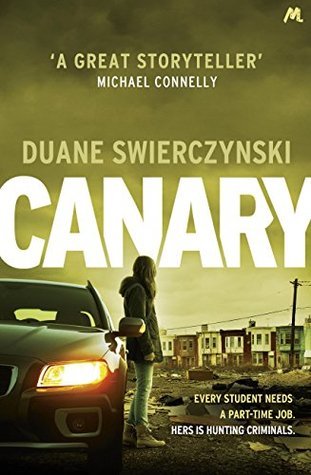 From the back of the book:
It's dangerous enough when an ordinary college girl turns confidential informant. Even more dangerous when she's smarter than the killer, kingpins, and cops who control her.
Honors student Sarie Holland is busted by the local police while doing a favor for her boyfriend. Unwilling to betray him but desperate to avoid destroying her future, Sarie has no choice but to become a "CI"--a confidential informant.
Philly narcotics cop Ben Wildey is hungry for a career-making bust. The detective thinks he's found the key in Sarie: her boyfriend scores from a mid-level dealer with alleged ties to the major drug gangs.
Sarie turns out to be the perfect CI...
My Review:
CANARY is one of those books I struggled to put down. The characters are engaging, the narrative is fresh, and the plot is fast paced. Using multiple points of view makes Sarie's soiree into the drug underworld that much more entertaining. Not only does author Duane Swierczynski provide a mechanism for Sarie's own thoughts as she confronts her unfortunate situation head-on via a journal-like blow by blow confession of sorts, but we get an insight into a broken yet glued together family dynamic outside the criminal plot threads thanks to Sarie's father and younger brother (who happens to be gadget bug bidden and highly inquisitive). Then there's the cop and criminal underworld equation that heats up the plot to boiling point.
CANARY feels like a slight departure from the recent spate of books by Duane Swierczynski by way of incorporating more a mainstream crime feel as apposed to the clever grit of the Charlie Hardie Trilogy - and that's not a bad thing - I always look for diversity in reading and Swierczynki gives us that here.
As a reader of Swierczynki's BLACK HOOD Phili noir comic (issue #1 published this month by Dark Circle Comics) I found the place setting of CANARY all the more visual and dark. The streets menacing, the cops tainted, the criminals an omnipresent threat. I thought having the visual comparison in this other form fiction, it added another level of enjoyment to the book, though it's certainly not a prerequisite for reading CANARY.
CANARY is a wonderful read. The characters take a life of their own from the first page they appear and are led down a rabbit hole into the dangerous world of drugs in an all too easy fashion. This is a piece of fiction that reads real. Highly recommended.