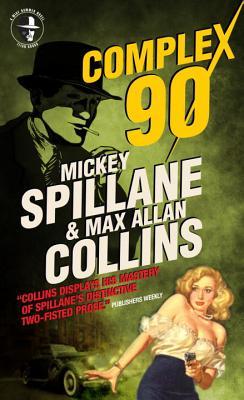 Despite being a direct sequel to THE GIRL HUNTERS (a book I've moved to the top of my tbr now), COMPLEX 90 reads well as a standalone and does deviate a little from the traditional Mike Hammer PI novels earlier published by Spillane.
COMPLEX 90, at times reads like a hard man's James Bond, in a good way. Mike Hammer, no longer just a PI in New York has been assigned a high security clearance by one of the secretive US alphabet agencies giving him immediate access to classified documents and personnel, it also puts him in the cross-hairs of international espionage and danger.
Assigned as a body guard following the untimely death of his predecessor, Hammer accompanies an American politician to Moscow. It is there he is kidnapped by the KGB and has to fight he way back to US soil.
COMPLEX 90 then establishes the continuity link with THE GIRL HUNTERS with enemies being revisited and themes from the previous book re-established. However, there is a little more spice to COMPLEX 90, with the mysterious namesake drug coming into play.
Complex 90 is a medical breakthrough of sorts, one that has the potential to protect astronauts in space from contracting earth born viruses. The Americans want it for themselves, while the Russians, via the KGB are doing everything in their power to gain access to it. Hammer finds himself in the middle of this tug of war and in traditional Hammer fashion, lets the fists fly just as readily as the bullets from his cannon.
COMPLEX 90 is a multi layered Mike Hammer novel that ties diverse elements together to form a well rounded and enjoyable tale featuring one of the best fictional characters written.